Chaparral has been building quality family boats since 1965. Founded in Fort Lauderdale, Florida, Chaparral has been the largest employer in South Georgia since 1976 with more than 1 million square feet of manufacturing facilities and more than 800 employees. Building quality boats is still a process that is carried out by hand by skilled craftsmen. At Chaparral, many of the designers are second or third generation boat builders who are personally very proud of every boat they build.
At Chaparral, luxury and quality go hand in hand. The price-quality ratio is very good with this brand. For this reason, this brand is the most sold sports boat in the USA in the 19-34 foot class. The team of qualified professionals builds every Chaparral with passion and finesse. This ensures that the entire boat is perfectly finished, which means that today you get the absolutely best product on the water.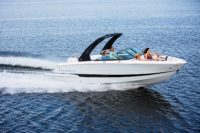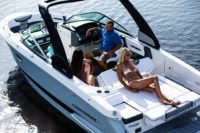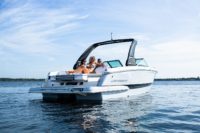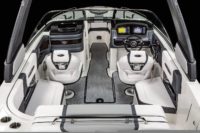 This fuselage design uses an extended tread that allows the "V-tread" behind the transom to pass through. This provides superior stability in almost all sailing conditions.
This ensures:
Stability at low speed
Fuel efficiency
The Hydrolift makes the boat easy to plan and makes it one of the most economical boats in its class.
COMFORTABLE SMOOTH RIDE
A long journey feels like a short day trip if you are on a Chaparral. Designed by the best, for the worst conditions, you will feel the difference the Hydrolift makes.
PRECISE STEERING
The extended special hull cuts through the bends with razor-sharp precision.
DRY BOARD
There will be no splashing water on board. Enjoy dry comfort aboard a Chaparral thanks to its high freeboard. Feel safe in the deep cockpits. You will be amazed by the interior without losing the slim profile.
SPEED EXPERIENCE
With a front keel that can cut through the water like a knife. The rapid acceleration allows you to make the trip of a lifetime every time you leave port.
V-Plane
Infinity Power Step
Chaparral 257 SSX
Chaparral foto's